Roadsides: Planting
for Pollinators
Roadsides is a program that encourages you to create habitat for native bees and other pollinators along roadsides, on cloverleafs, on unused urban land and in your garden. The little habitats created by volunteers like you are called
Pollinator Patches

.
Photo: R. Colville
Our native bees need our help.
Pollinators are in trouble -- not only the European Honey bees but our native bees as well. Their troubles begin with pests and diseases, continue with habitat loss and are finally topped by our use of pesticides such as Neonicotinoids.
You and I can improve the situation by creating a pollinator patch in our community.
By planting Pollinator Patches along our roads and in our unused land, we can provide spaces for our native pollinators to live and breed. It's all about pitching in and doing something.
Now...one Pollinator Patch won't make a big difference, but just imagine if we planted hundreds and even thousands of patches across our province. What an impact we could make!
The first Pollinator Patch was created in 2010. The progam has grown to include plantings across the province. The next pollinator patch should be yours.
Residents and the City of Barrie are doing their part to add pollinator habitat to the urban scene. Volunteers in Barrie, Ontario, planted native plants for pollinators along a section of a walking trail. Next year, another section will be planted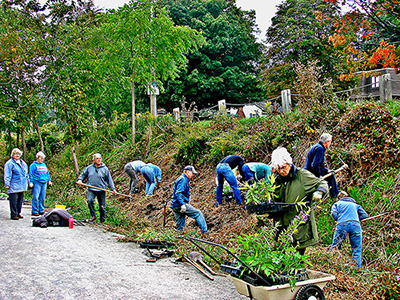 Volunteers in Barrie planting for pollinators. Photo by Toni Blakelock
Ta Da....
a great TED talk about bees by Marla Spivack
a very good video about the Plight of Bees-- A TED_Talk
Also see a video of native bees in a school ground. The children have named them "Tickle Bees."